Ruby Yachts Vessel Detail
20xx
Ruby Yachts Expedition 100 by Dixon Design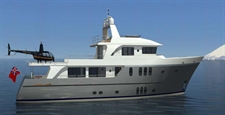 Specifications:
Designer: Dixon Yacht Design

Dimensions
LOA: 96 ft 6 in
Beam: 24 ft 3 in
LWL: 90 ft 0 in
Maximum Draft: 6 ft 6 in

Engines
Engine Model: 720 hp

Tanks
Fresh Water Tanks: (2244 Gallons)
Fuel Tanks: (10560 Gallons)

Accommodations
Number of cabins: 4
Number of heads: 5


Ruby Expedition 100 by Dixon Design
CONSTRUCTION
The construction is the steel hull, decks and aluminum superstructure. The vessel is built to DNV or LR Letter of Compliance covering hull, decks, superstructure and enclosures.
WATERTIGHT BULKHEADS
Watertight bulkheads are located at the forward and aft ends of the crew accommodation, forward and aft ends of the engine room and the aft end of the owner's stateroom. Access to the engine room is via a watertight door through the aft bulkhead.
MAIN PROPULSION
Main propulsion is provided by a pair of 720hp, marine diesel engines included ZF gears to Aquamet shafts turning propellers.
GENERATORS
Power generation is provided by two Northern Lights 55Kw generators. The electrical system provides for both marina connections and mechanical charging using anAtlasShorepower converter and a Mass battery charger. 120V outlets and systems are supplied from a Mass 120V Power Inverter.
THRUSTERS
One 55 hp DC or hydraulic thruster is fitted within the bow.
STEERING
One steering station is fitted. The station is fitted with Kobelt throttle. The station is wheel steered via a power-assisted hydraulic helm pump.
TANKAGE
Black and Grey water tanks are built into the hull structure with facilities for overboard or dockside discharge. Fuel and water tanks are built into the hull structure with a total fuel capacity of approximately 10,560 gallons and a total water capacity of 2,244 gallons. Two 1,500 Gal per day water makers are also installed.
ANCHORS
Two 70kg stainless steel stockless anchors are fitted to stainless steel bow indents and attached with galvanized swivels and shackles to one 160m ropes of 14.0mm shortlink galvanized chain through two 4500 lb Maxwell windlasses. Two 2000 lb Maxwell docking capstans are mounted aft.
TEAK DECKING
The upper bridge deck, foredeck, Portuguese flybridge, side decks, aft deck and boarding platform are finished in 16 mm quarter sawn teak planks, approximately 50mm wide and paid with black caulking compound.
DECK FITTINGS
Deck fittings include eight-polished stainless steel mooring cleats and eight-polished stainless steel fairleads. Handrails are 50mm diameter hand-polished 316 stainless steel. An electric/hydraulic davit is fitted to the boat deck.
CLOSURES
Closures include 21 D-ended stainless steel portholes with stainless steel deadlights. The wheelhouse screen and side windows are in flat panes of chemically toughened glass.
PAINT
All exterior surfaces are filled, faired and finish coated with Awlgrip products in accordance with US Paints' specification.
FIREFIGHTING
A automated fire detection and extinguishing system is fitted to the engine room. Smoke detectors are fitted in each cabin, living space and machinery space with portable extinguishers distributed around the vessel.
AIR CONDITIONING
A chilled water MarineAir conditioning system is installed throughout the vessel. Ducted air extraction is fitted to the galley and bathrooms.
DOMESTIC SYSTEMS
The two 1,500 Gal per day water makers supply the domestic-pressure fresh water system for continuous hot and cold water.
APPLIANCES
The galley is fitted with a four-burner stainless steel electric stove/oven, electric extraction system, microwave oven, refrigerator, freezer, dishwasher, waste disposer and trash compactor. An icemaker and mini bar are provided in a bar area in the main saloon. Additional cool store, supply storage and laundry facilities are located on the lower deck. The crew galley includes a refrigerator-freezer, cooking top, oven and microwave oven.
ELECTRICS AND ELECTRONICS
The generators supply continuous alternating current to all domestic equipment, lighting and entertainment. An AtlasShorepower seamless conditioner is installed to accept the various inputs required. Batterychargers supply ships battery banks and machinery starting, as well as emergency, navigation and electronic supply.
Follow us on Pinterest
Follow us on Facebook
Share us on Facebook
~~~~~~~~~~~~~~~~~~~~
20xx
Ruby Yachts Expedition 100 by Dixon Design
Inquire About This Boat
Close This Page
Manufacturer

Ruby Yachts

Year - Model

20xx
Expedition 100 by Dixon Design

Location

South Korea

Price

Inquire






Length - Material

96' - Steel/Alumin

Beam

24

Draft

6' 6"

Tankage:

Fuel (Diesel)

10,560 Gallons

Water

2,244 Gallons

Holding

TBD

Engine Make - Number

TBD - 2

Engine Model

TBD

Engine Horsepower

720

Engine Hours

TBD

Cruising Speed

TBD

Maximum Speed

TBD

Staterooms

4

Heads

5
Follow us on Pinterest
Follow us on Facebook
Share us on Facebook
Inquire About This Boat
Click on an image below to enlarge.
20xx
Ruby Yachts Expedition 100 by Dixon Design
Ruby Yachts Vessel Detail
Do you have a 45'+ Boat you would like to donate to charity?